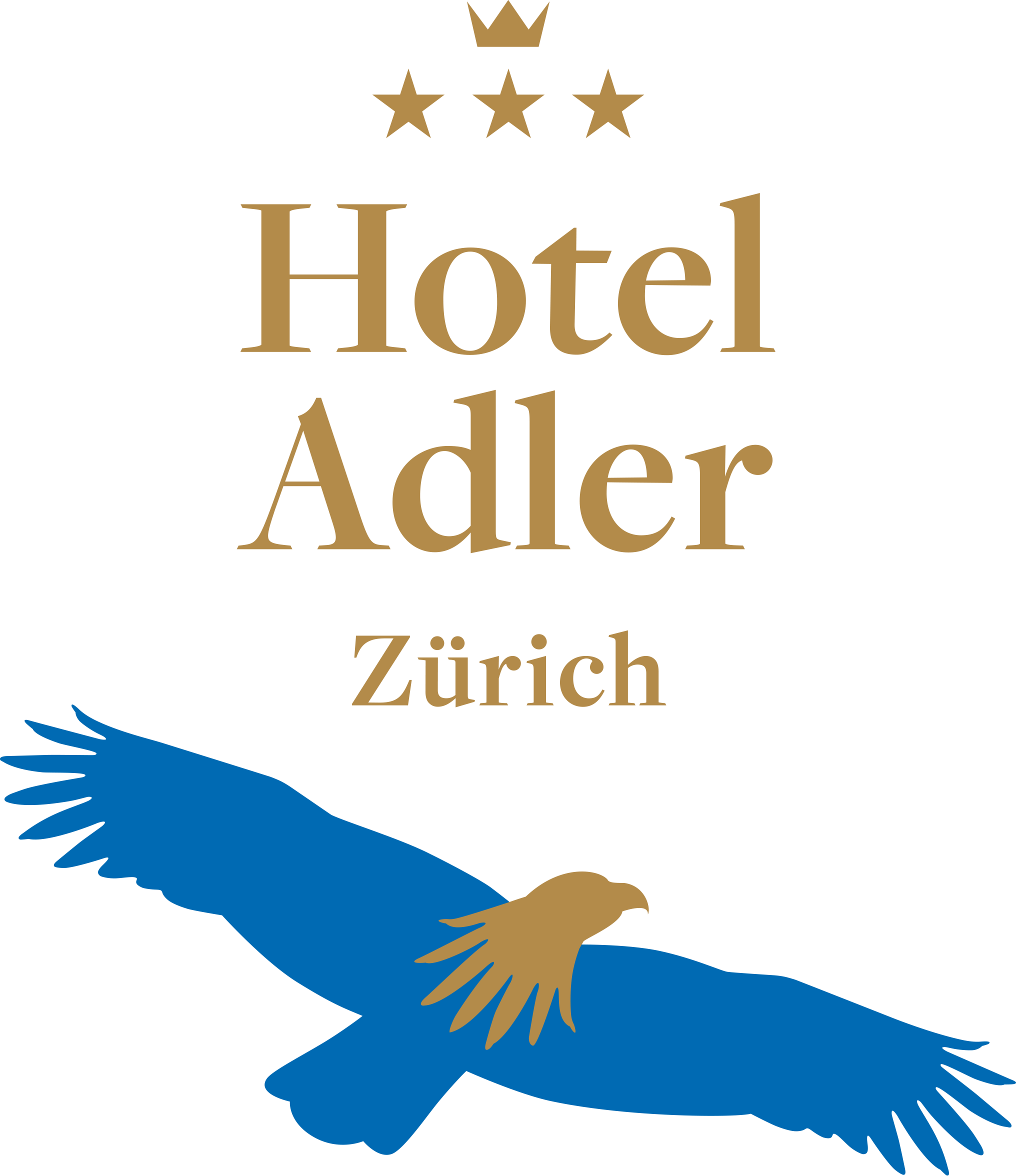 Swiss. Central. Artistic.
BOOK NOW
All rooms with
air condition
Best price guaranteed - including Breakfast and VIP Treatment
The perfect room for you
With their large-format murals by Heinz Blum, each of the 52 hotel rooms shows a unique view of the city. The works of art offer a view of a historic monument, an important building or a crooked alleyway of Zurich where famous personalities have lived. With the help of the city map, which you will find in your room free of charge, the Hotel Adler inspires you to look out these locations on the tracks of history. This will make your stay in Zurich an experience which will remain in your memory. Like an impressive painting.
10 Room Categories
The perfect room for all your needs, whether you visit Zurich with your family or for a business meeting.
Air Conditioning
In our 3 stars superior hotel, all 52 rooms are equipped with air conditioning.
Breakfast
Our rich breakfast buffet served in our restaurant.
Cancellation
Cancellation is free of charge until the day of arrival. 
?
Cancellation
Cancellation is free of charge if cancelled until 2pm (14h00) CET the day of arrival. If cancelled after 2pm (14h00) on day of arrival, the first night will be charged.
Rooms & Suites
All rooms with air conditioning 
ninaSF
TripAdvisor, 14.2.2020
Well run, clean and well kept, with lovely linens, curtains, etc. Murals in the rooms and hotel strike a special note. Very quiet for sleeping despite being in the middle of a busy neighbourhood full of restaurants, shops, and bars. 
Tanya M
TripAdvisor, 16.2.2020
I travel a lot and have had many favourite hotels, but Hotel Adler has taken over as my new number one. It's just quirky weird and wonderful. It's in such a good location to everything. The rooms are really beautiful with art work and other nice details. 
BayResident
TripAdvisor, 11.12.2019
The Adler Hotel was in the perfect location for all the sights in Zurich. The Hotel facilities were great and the staff couldn't have been more helpful. Restaurant staff were friendly and gave great advice.
Ross Griffiths
Google, 12.8.2020
Love this hotel. Great location and excellent staff. Breakfast is very good and the rooms are clean and well sized.